Happy Tuesday loves!  This morning we finally posted the good news!  God, I've been sitting on this news for like 2 weeks!  Maria Bello tweeted on set, so no more secrets!
Mattel and Dolphin has brought in one of my favorite actresses! Maria Bello! This talented lady has over 35 feature film credits under her belt and she is now adding Max Steel to her roster! Maria will be playing Max's mom, Molly.
Maria arrived in Wilmywood and got right to work last week.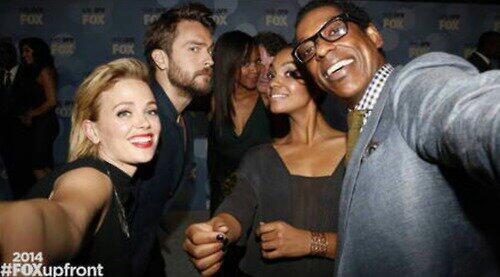 Yesterday it was a mad house at not only the Fox Upfronts but at the Fox Fan Fronts! Twitter was on fandom fire especially when our Sleepy Hollow cast arrived. Then, something else caught the eyes of
many fans.  Is that a ring on Tom Mison's left hand?  Yes, indeed it is!  According to multiple sources, Tom Mison married his love Charlotte Coy in a small and private ceremony about a month ago.  So, congrats to the gorgeous couple!
Today, we have the Upfronts for ABC at 4pm EST.  Got any favorite shows on that network?  Secrets and Lies begins production in July from what I've been hearing, they will be a mid-season pick-up.
Under the Dome is shooting all over the place today including Winnabow as well as all of their sound stages.  Max Steel is back at a private location on Middlesound Loop Road.
Big Congrats to our local comic book shop, Memory Lane Comics!  They were just nominated for an Eisner Award – the 2014 Will Eisner "Spirit of Comics" Retailer Award. The awards will be given out during this year's San Diego Comic Con in July.
Perry's Emporium has the exclusive NC Film Pendants in stock now! They also ship everywhere, so call them to order one or stop by and pick one up! Price: $39.95 Located at 2520 Independence Blvd in Wilmington 910-392-6721  They are open Tues – Sat: 10:00 am – 6:00 pm.  I am wearing mine proudly!
There is so much more to do before the short session begins on Wednesday, May 14th as they decide the NC Film Incentive's fate.  However, don't let the name fool you.  This could take 4 weeks or more for them to come to a decision!  Yuck! Please send a message or phone call to our governor Pat McCrory as well as Sharon Decker and ask them to please HELP us!  Here's their deets:
PAT MCCRORY 
PAT.MCCRORY@NC.GOV 
919-814-2000 
Twitter: @PatMcCroryNC

SHARON DECKER
SHARON.DECKER@NCCOMMERCE.COM
919-733-3449
LOOKING FOR THOSE FILM=JOBS STICKERS? Sunrise Broadcasting has a few.  Feel free to stop by and grab one while they last at 25 N. Kerr Ave. (near the intersection of Market and Kerr across from the new Walgreens).  Offices are open 8:30am-5:30pm M-F.
WE GOT MORE!  Last time, they flew out of here in 24 hours!  Thanks to Jed and the gang over at Image Monster, you can now pick up these fab stickers at the Sunrise Broadcasting, too! Film=Jobs folks!  Spread the word!
MOST POPULAR BLOGS THIS WEEK: 
That just about does it for me; I will have more Wilmywood updates for you tomorrow morning (unless something breaks) and every weekday morning we do "What's Up in Wilmywood" at 7:30am & 8:30am LIVE on Sunny 104.5.  And on Thursdays during Cape Fear CW's Primetime News at 10!  Got Scoop?  Email me:  sheila_brothers@yahoo.com.  Or message me on Wilmywood's FB  or on Twitter.  You can also just post your comments below!  Until then, that's a wrap!!